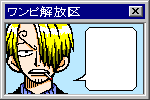 I'm 三次 (Sanji).
This is my corner of the Internet.
I love drawing, listening to music, and being a weeb.
Thanks for visiting『sanji.org』.

What is sanji.org?

[sanji.org] is my own personal website, where I talk about my interests and share my life with others from the internet! The Web 3.0 and beyond has been constantly trying to take away the individuality of its users; this webpage is a way of expressing myself without the constraints of modern social media.

What you'll mostly find here: anime (One Piece), music (BUCK-TICK), my art, old web nostalgia and more!

sanji.org is best viewed on a desktop, with a 1920 x 1080 resolution.

*I'm bad at english and extremely mediocre at japanese, bear with me!*
...Site updates...

[2023.11.20] Minor changes on main site. I swear next update I will actually make a new page.
[2023.09.16] Moved older updates to a separate page and updated the Gallery.
[2023.09.09] Webgarden page created, and blog page has a new look!
[2023.08.19] Sanji shrine is ready as well :-)
>Click here for older updates

Site Map
Don't forget to sign my Guestbook!